Welcome to the bonus stop in Lena Coakley's Witchlanders tour!
I received a copy of Witchlanders for review from Simon & Schuster earlier this summer. Check out my review and summary! Today I'm interviewing Lena Coakley about some of her inspirations and her writing process.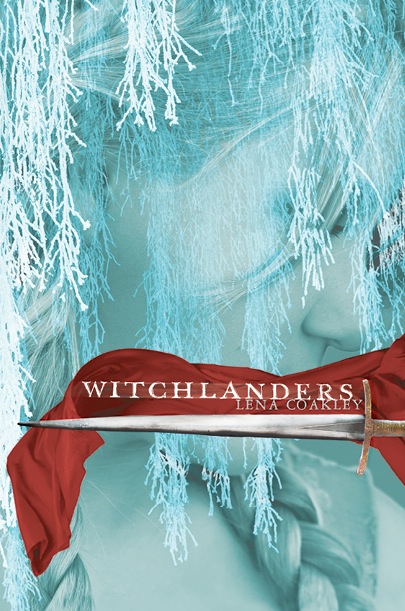 1. How did you come up with the world of Witchlanders and Baens? Has it been an idea always floating around in your mind?
There is nothing like writing a novel to see what your subconscious is worrying about. If someone had told me before I started that I'd be writing about religious clashes, drug addiction, and racism, I would have run for the door, but I think a fantasy novel is a great place to explore difficult subjects.
I wanted to create two opposite sides, Witchlander and Baen, that both had rich and interesting cultures, but that were both far from perfect. If I'd written a realistic novel about two warring cultures, every reader opening the book would already have a pre-conceived notion about one side or the other. But no one has a pre-conceived notion about what it means to be a Witchlander or a Baen. I wanted readers to eventually be able to see both sides of the conflict—and I hope they do!
2. Witchlanders
left off on a bit of a cliffhanger. Will it have a sequel or be part of a series?
I'm honestly not sure. I haven't been contracted for a sequel and I think the book stands alone, but it would be really interesting to see what Ryder and Falpian do in the Bitterlands, wouldn't it?
3. What are some of your favourite fantasy novels? Do you read much YA fantasy?
Fantasy is pretty much all I read! (But I'm trying to branch out.) My YA must-reads are:
Sabriel by Garth Nix
Incarceron by Catherine Fisher
The House of the Scorpion by Nancy Farmer
A Wizard of Earthsea by Ursula Le Guin
The Queen's Thief Series by Megan Whalen Turner
The Kingdom Series, especially The Wings of a Falcon by Cynthia Voigt
I could go on and on!
4. Tell us about your writing process! Do you have a writing desk? Can you only write in the A.M.?
I don't want to say that I can ONLY write in the A.M. I think sometimes writers make up these rules for themselves and then they become hard to break. When I have to, I can write at night, but I certainly prefer to write early in the morning, right after a swim. I usually get so into it that I skip lunch and end up starving at about 3:00.
I have a desk, but I also have a little HP mini that I can take to coffee shops or to the Toronto Reference Library, where I sometimes write with other authors. I writing on it right now!
5. Favourite flavour ice-cream?
Green tea!
About Lena Coakley
Lena Coakley was born in Milford, Connecticut and grew up on Long Island. In high school, creative writing was the only class she ever failed (nothing was ever good enough to hand in!), but, undeterred, she went on to study writing at Sarah Lawrence College. She got interested in young adult literature when she moved to Toronto, Canada, and began working for CANSCAIP, the Canadian Society of Children's Authors, Illustrators and Performers, where she eventually became the Administrative Director. She is now a full-time writer living in Toronto.
Witchlanders
is her debut novel. Check her out on
Twitter!
Contest
Since I'm one of four secret blog tour stops I don't have a question for the grand prize Kindle giveaway. If you'd like to enter to win please check out my partner Missie at The Unread Reader.
However I will be giving away one copy of Witchlanders! Contest is open to US/Canadian residents only. To enter please leave your name and email address in the comments. Contest closes September 13th at 11:59 PM EST.
Be sure to check out the other tour stops for August & September!
Monday, August 22nd -The Page Turners
Tuesday, August 23rd- The Unread Reader
Wednesday, August 24th - Books Complete Me
Thursday, August 25th - We Fancy Books
Friday, August 26th - Read.Breathe.Relax
Monday, August 29th - EmilieÆs Book World
Tuesday, August 30th - The Mundie MomÆs
Wednesday, August 31st - Enchanted Ink
Thursday, September 1st- Well Read Wife
Friday, September 2nd - A Journey of Books
Monday, September 5th- The Story Siren
Tuesday, September 6th - One A Day Y.A.
Wednesday, September 7th - Reading Angel
Thursday, September 8th - Soul Unsung
Friday, September 9th - Alice MarvelÆs
Tuesday, September 13th: Announcement of the big prize winner on Lena's Site!